Homebuyers, sellers, and mortgage lenders often hire independent property appraisers to evaluate the home and determine the Fair Market Price (FMP) of the property.
Last year, two of the leading mortgage companies in the US, Fannie Mae and Freddie Mac, introduced appraisal-free mortgages, which guaranteed the buyer a mortgage loan without performing an appraisal. This approach usually works with borrowers who have a clean credit record and offer a significant down of 20% and above.
That may come as good news because property owners and buyers need not hassle to fund the appraisals, saving them between $400 – $600. The real question is: Are appraisal waivers good or bad? It is a topic that requires close attention, especially when the looming presidential elections are expected to affect housing markets in the US.
How do Appraisal Waivers Work?
In real estate, an appraisal waiver is when a mortgage lender expresses their willingness to approve a mortgage contract without hiring an appraiser to determine the property's market value.
Fannie Mae and Freddie Mac use proprietary digital analytics and extensive property-data storage to conduct property valuations in lieu of the traditional appraisals by trained experts.
With an appraisal-free mortgage, the lender assumes the role of determining a property's market value. They rely on a robust, online database provided by Fannie Mae and Freddie Mac to systematically analyze property data and give an accurate estimate of the FMP. It alleviates the need to hire a professional appraiser to determine the value of the home you intend to buy.
An Appraisal Waiver Sounds Good, But Where's the Catch?
Imagine getting a mortgage without having to spend cash on property appraisals. That's an excellent way to cut down your home-purchase costs.
Whether an appraisal waiver is good or bad is a debatable issue, but we will stick to our instincts that tell us that something is not right about appraisal waivers. In the long run, you may end up paying more than for a home whose market value is significantly lower than the price indicated in the mortgage contract.
One thing you need to understand about appraisal waivers is that the lender does not bear any risks if the FMP margins tilt away from the prospective homebuyer. They will not record any losses if the market takes a drastic negative shift, but the mortgage lender will.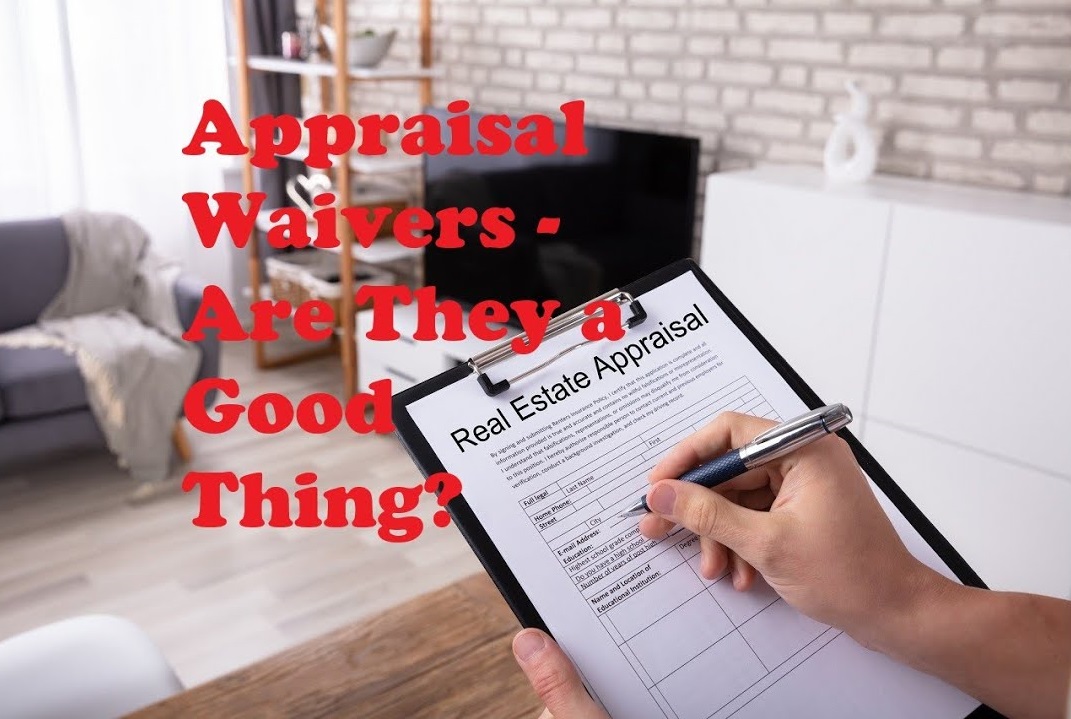 Here's What Could Go Wrong with Appraisal-Free Mortgages
Lenders depend on property data and analytics by Fannie Mae. The company's proprietary database comprises information collected from appraisal reports by real people – appraisal professionals.
The data can be accurate, but it does not provide the current reports on the property's interior and exterior conditions, which keep changing as time goes by. Besides, online-based appraisal programs cannot smell a rodent-infested home or note the deplorable interior conditions that can lower a property's value.
While these bigwig mortgage lenders enjoy attractive lending rates, they make huge savings, which are unfortunately not extended to the buyer. Many online lenders in the US continue to charge over $500 as mortgage settlement fees.
Wrapping Up
When a lender provides an appraisal waiver, remember it a non-obligatory request. You need not feel obliged to enter the contract, because the choice is yours.
Furthermore, the chances are that the lender has indicated an inflated mortgage price, which means that you will have to incur more costs than you could have otherwise catered to.
It's a gamble that could lead you to a financial plunge if the housing market should turn against you.
Have Questions? Ask George!